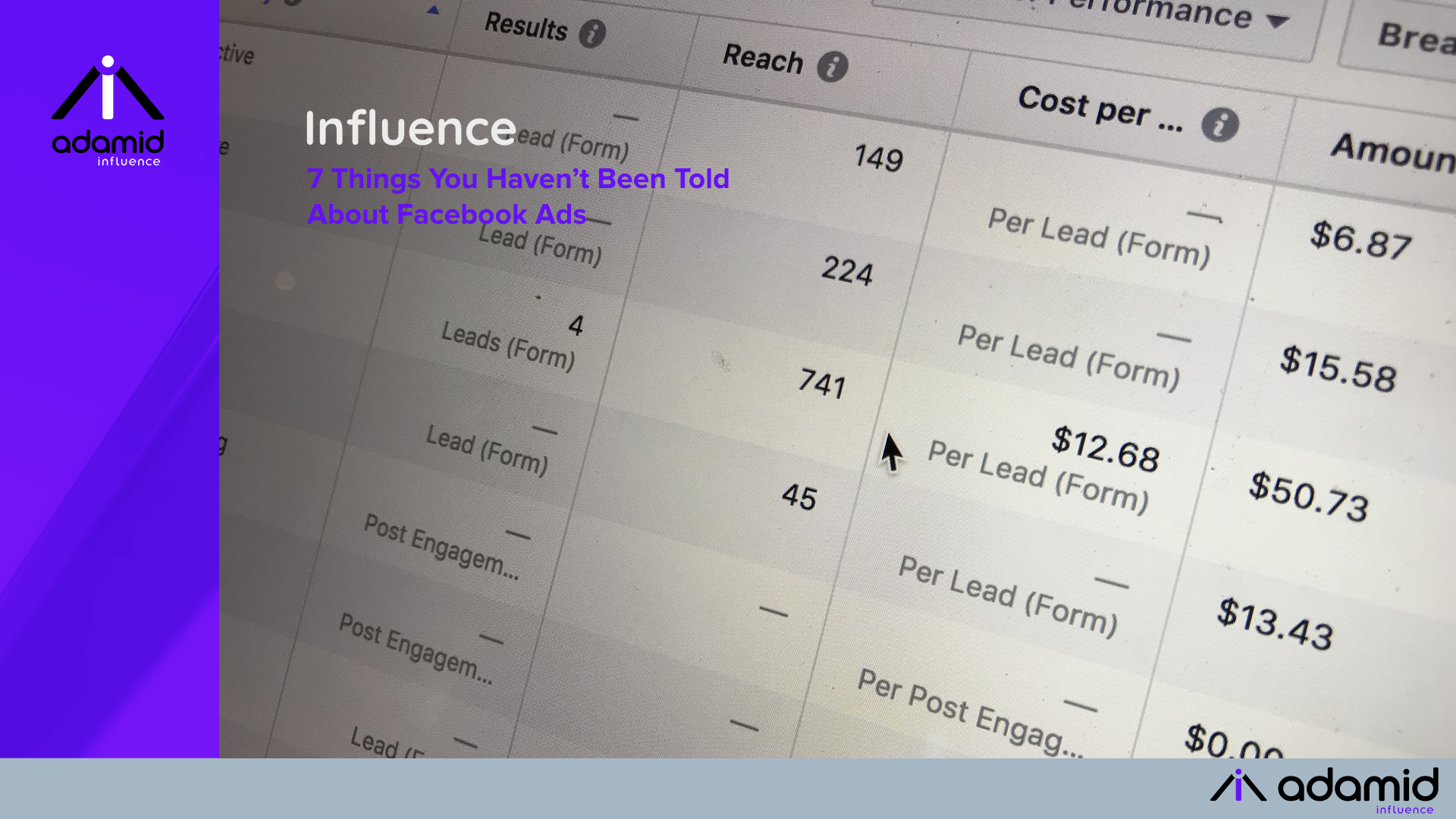 7 Things You Haven't Been Told About Facebook Ads
You guessed it.
Facebook ads are not perfect.
I think most people expect it to be the super-sauce that PPC can be, but it's not. Facebook paid media can be a powerful tool, if you're willing to invest in it.
Let me give you some background. Back in 2014 I co-founded an agency specializing in Facebook paid media. Sometimes it worked **GREAT** and other times it was garbage. Why is that? Well we will answer that question here and set your expectations accurately for your next Facebook paid media spend.
#1 Ready, Fire, Aim.
Facebook is the wild west of media spend. Literally, there is no way to tell what will work at the onset. As a marketer we want to do one thing first, get one person to complete the goal and then optimize. Facebook ads very much work this way. It is best practice to set an initial budget across a bunch of wide parameters rather than get too granular and not have any test audience. As a result, you should cast a wide net and expect that results initially may be painful.
#2 It's going to suck, probably for 90 days, if not 12 months.
Yes, Facebook is iterative. The platform rewards your ongoing paid media advertising budget. As a result, the longer you run a campaign, the better it will preform. So, if you think you have a product or services that could be good for Facebook — STAY AT IT. It's the largest media platform in the world. Chances are if you aren't a good fit for Facebook, you don't have the longevity of your product or service that your team thinks you do.
#3 If you're not using custom audiences you've missed the boat.
Custom audiences are the most powerful tool you can use on Facebook. If you aren't finding your persona on a gathered list (3rd party) or an owned list (1st party), then you are missing the biggest functional improvement to Facebook paid media advertising in years.
The big issues with custom audiences are matching your database records to Facebook users. Match rates have improved, but they could be better. Also, you really have no way to tell who or what you're matching to who in the Facebook audience. This means that individual database record "matches" can have wild inaccuracies that lead to skewed results and wasted media budgets. One solution is to further refine your audience with Facebook's partner category data (3rd party data) or compiled data (1st party data). If you know your customer isn't likely to make less than $100,000 annually, then set that as a parameter on top of your custom audience. For more information on finding your persona – click here.
#4 Facebook data is compiled from a number of sources.
Some of them are better than others. You can find your most valuable datasets with ease, if you understand the difference between Facebook partner category data (3rd party data) vs. compiled data (1st party data). It's worth understanding what data they use from Acxiom, Epsilon, Experian Marketing Services, Oracle Data Cloud (formerly Datalogix), and Quantium. If you understand how these partners' models are built, then you can optimize your targeting according to their strengths. Most of these Data companies have similar sources and utilize similar technologies. Facebook look-alike targeting is very similar. See more from Facebook here. If you would rather not have to figure this out for yourself contact us, we are here to help.
#5 Ad relevancy score on Facebook does not necessarily correlate to higher action rates and stronger outcomes.
This one comes from Jeeyan Rostam-Abadi, Director of Media Buying at Hawke Media.
While Facebook's ad relevancy score is a direct factor in the Facebook ad auction, and a higher ad relevancy score can drive stronger ad delivery as a result (via lower CPM), I have seen ad relevancy scores of 9 or 10 for a specific ad under an ad set that actually drive lower conversion rate and higher acquisition costs than other ads in the same ad set that drove an ad relevance score of between 5-8.
As a savvy digital marketer, it is important to not obsess over a single metric, especially something like Facebook's ad relevance score which is as estimation of how relevant an ad is. It takes into account positive feedback they can expect based on certain actions (i.e. clicks, video views, etc.), as well as negative feedback (i.e. users reporting the ad as irrelevant), but is not the best metric to predict action rates or positive outcomes of a unique ad.
#6 Lead Ads are the best ad unit yet.
With the addition of Facebook lead ads, like ads and traffic driving ads are basically worthless.  These ad units encompass all of those features and more while rewarding advertisers for keeping the user in their platform. If you're still using outdated ads, your audience is likely slowing their response and finding a competitor that does. Preference is clearly placed on newer features by Facebook and it's users.
#7 It's really easy to hack (reverse engineering 101).
Not as in hack your data or hack you personally – but growth hack.  Making things go viral can be reverse engineered. You don't have to look any further than the widespread release of "fake news" to see how this has affected our audiences and society. Once your content is related to other content in a specific category (which is an iterative process done through machine learning) then it will be shown to users more likely to engage with that type of content. This makes it really simple for "click-bait" to be used to move entire audiences to a new ideology or "fake news." If I catch your click once with a title like "What the president did behind closed doors and didn't mention" or "Media conspires to hide these key facts" now you're in my funnel.  All of these concepts can be used in any other category to increase the likelihood of consistent touch-points across an audience interested in content like yours.
In Summary
Your strategy will differ greatly depending on your business. If done well, Facebook advertising can be a great way to spend your budget. If you're not using it, you should be. Don't expect it to be a quick fix. Facebook ads take a lot of time to do well and do right. Use the new features, and be smart about how you use them. Facebook will reward you greatly if you understand how it works.